BAFFLE FILTER SALES
Sundance Restaurant Services Niagara is a high-pressure wash company specializing in kitchen vent-a-hood exhaust systems cleaning and high- pressure wash.
BAFFLE FILTER SALES
---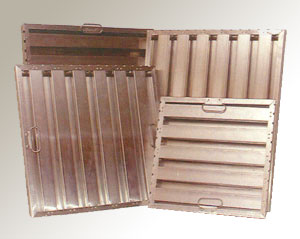 Baffle filters were invented in the late 1970s to ensure maximum filtering of grease, smoke and other pollutants from stove exhaust hoods. By using centrifugal force, these multi-baffled filters continually drain liquid grease as the air is pulled through them.
Far less grease builds up on these filters than mesh types because baffle filters remove grease from the air stream and drain it into a collection container. This greatly reduces the potential fuel for a fire.
Baffles filters are constructed using a standard frame with two offsetting, corrugated, overlapping parallel sheets of metal.
When cleaned regularly, most baffles achieve an average Arrestance Efficiency of approximately 70 percent.
Shop Online
---