The Grease Box Original
Sundance Restaurant Services Niagara is a high-pressure wash company specializing in kitchen vent-a-hood exhaust systems cleaning and high- pressure wash.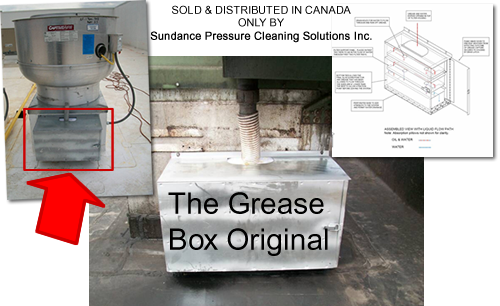 The Grease Box was designed for normal to high volume Facilities the Original Contains:
3 Tiers with one of a kind patented Polypropylene Grease absorbent pillows.
The 1st Tier has the patented Even Water Flow Diverter
The 2nd Tier has the patented Over Flow Walls
The Grease Box Original is manufactured from 24 gauge galvanized sheet metal. All parts are cut from sheet metal and bent and shaped into their proper form. Most metal to metal attachments are spot welded. The only components not constructed from sheet metal are the piano hinge, the door latch, the perforated metal base and the Polypropylene Pillows.
The unique enclosed box design allows this box to be completely unaffected by high wind, snow, heavy rain, ice, and hail. (No more chasing pads all over the roof)
Installation: 3 self tapping metal screws and 2 minutes. No cutting! No Bending! No Caulking! No Rods! No Bolts! It does not get any easier!
Shop Online
---